Home -> Products -> Powered Walk-behind Road Roller
GMC-P01 Powered Walk-behind Road Roller
GMC-P01 ride-on road roller is one of the small-size double drum powered walk-behind rollers. This Ride-on Road Roller can be applied to compacting and maintaining various roads, and rolling of the expressway shoulders, sidewalk, parking area, sports ground and garden lawn.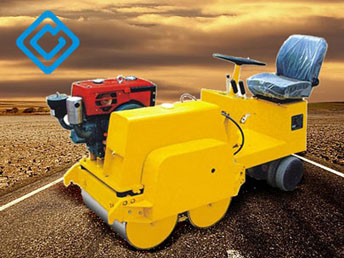 This diesel road roller is specially suited for compaction of narrow areas, such as pipeline channel and drainage trench etc.

Mechanical all-drum travel drives with greater grade ability.

Compact design and small size guarantee the rolling compaction into narrow ground.

Provided with the guide wheels and control level for effortless turning,The steering wheel and driver seat help to maneuver the powered walk-behind roller conveniently.

We are specialized in producing high quality powered walk-behind roller, diesel road roller, and ride-on road roller with best price and good service! Welcome to order!
Data of GMC-P01 Walk-behind Road Roller
Weight
Operating mass 735kg
Front wheel static linear load 46N/cm
Rear wheel static linear load 73N/cm

Machine dimensions
Drum width 600mm
Vibration frequency 48HZ
Turning radius 2700mm
Overall dimensions 2500×795×1050
Wheel base 470mm

Diesel Engine
Diesel model R175AN
Diesel power 3.7kw
Exciting force 12Kn

Drive
Grade ability 40%
Max Travel speed 2.5km/h
Vibration amplitude 0.25mm
---
>>GMC-P01 Powered Walk-behind Road Roller
>>GMC-P02 Powered Walk-behind Road Roller
>>GMC-P03 Powered Walk-behind Road Roller
>>GMC-P04 Powered Walk-behind Road Roller
---
Tel: 0086-371-86079028 Fax: 0086-371-86079027 E-mail: mia@gcmec.com
Add: Rm.1704 Manhattan Commercial Plaza,Jinshui Rd.,Zhengzhou,China
Copyright Notice © 2009 roadrollerchina.com All Rights Reserved
We offer a toll free sales and support line as well as email support to ensure you are getting the best road roller available.